Vigan again gained an international recognition after it was named as one of the new7 wonders cities of the world. New7Wonders Foundation through their Founder – President Bernard Weber, made the announcement on its website on Dec. 7 (December 8, 3:00 am) as it ended its search for seven cities that represent the global diversity of urban society.

The New7Wonders Cities includes: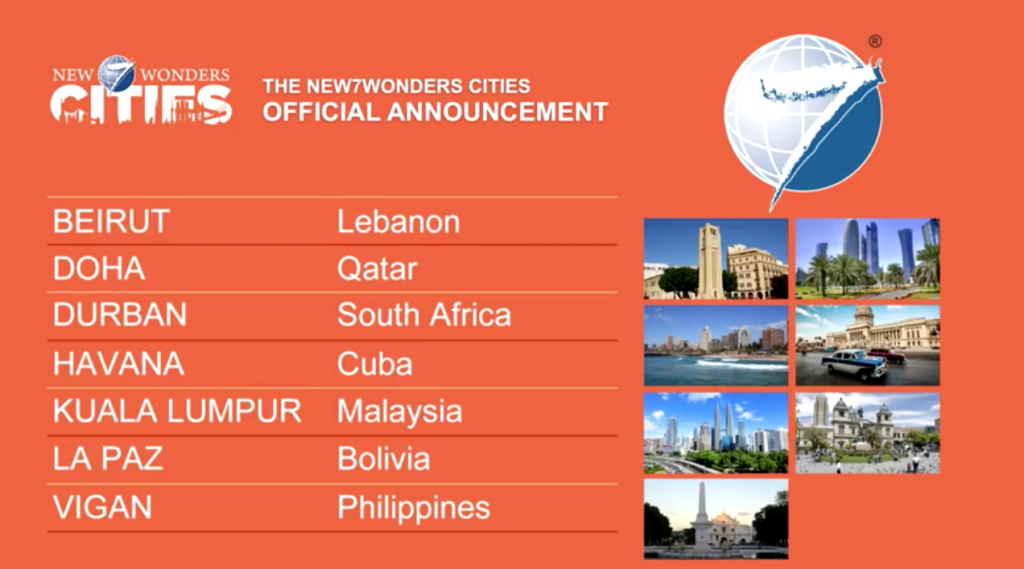 Beirut, Lebanon
Doha, Qatar
Durban, South Africa
Havana, Cuba
Kuala Lumpur, Malaysia
La Paz, Bolivia
Vigan, Philippines
 Different sectors joined the city and provincial officials and employees of the city government of Vigan in the evening of December 7, in front of the city hall to wait for the announcement of the new7 wonders cities of the world. The mood was jovial as they danced the night away.
After the announcement, everybody was jubilant as fireworks lit the sky to celebrate the inclusion of Vigan.  Vigan City Mayor Eva Marie S. Medina thanked all Bigueños and Filipinos who supported Vigan in becoming one of the New7 Wonder Cities of the World. "We made it because we are one in achieving our dreams" she says. She also stressed that indeed December is a very lucky month for it is her birth month; it was also on December 2, 1999 when Vigan was listed in the UNESCO World Heritage Site and now as one of the New7 Wonders Cities of the World.
Mayor Eva Medina added, "This is inspiring. It is a tribute to a people who committed to achieve development and make wonderful things happen in their lives and their community, even radiating beyond boundaries."
Bernard Weber also congratulates each city on achieving their New7Wonders status. The New7Wonders Cites will now join the New7Wonders of Nature and the New7Wonders of the World in becoming part of Global Memory for humanity forever," he added.
 A verification of votes will now be held, after which New7Wonders will work with the confirmed cities to organize official inauguration events.